Founding Impact: How investors help startups grow sales - interview with Katrin Häuser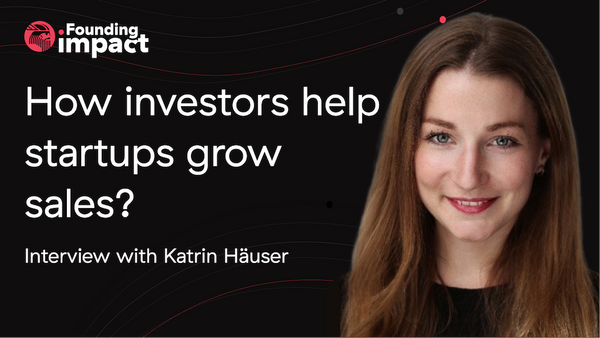 This episode's guest is Katrin Häuser - the CEO and co-founder of TheGreenSpring.

Her company combines business and sustainability expertise with a hands-on approach.

Together with their clients, TheGreenSpring shapes ideas into sustainable business models and match them with their trusted network of sales partners, clients, and investors.

In this episode, we talk about the biggest challenges and opportunities around building actionable go-to-market strategies in impact-driven companies.

In addition, we discuss how investors and agencies can support founders with knowledge and expertise and help them to develop various areas of the business.

Check out the whole episode and explore this topic together with us!

Links:
👉 Katrin's Linkedin
👉 TheGreenSpring website
👉 Kasia's Linkedin
👉 Maciej's Linkedin
👉 Our website

Check out other episodes 👉 here 👈
If you have any questions, feel free to contact us at foundingimpact@ragnarson.com

At Ragnarson we help companies deliver great products. We take care of development and deployment so that they can focus on growing the product and working with customers.