Founding Impact: Sharing carry with your portfolio by Michael Fairbairn from 8 Dimension Ventures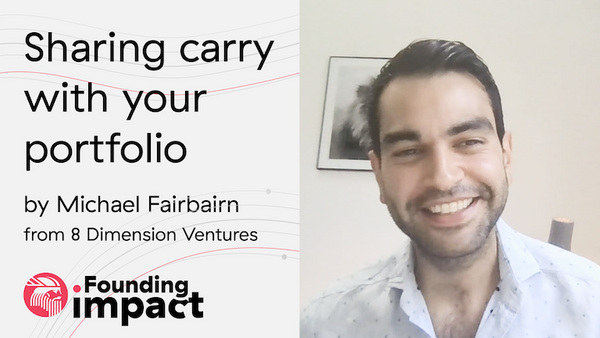 In this episode of the Founding Impact Podcast, Kasia and Maciej talk with Michael Fairbairn.

He's a partner and founder at 8 Dimension Ventures - a leading impact Health & Wellness fund investing in companies that have the potential to make an impact on people's lives and world health.

Their offer is very unique.

Apart from being invested in, founders from their portfolio become the fund shareholders.

This creates a community in which all startups from their portfolio care about each other.

It's more than just owning some shares.

It's a circle of support, bringing motivation and fresh perspective.

Check out the whole episode and learn more!

Links:
👉 Michael's Linkedin
👉 8 Dimension Ventures website
👉 Kasia's Linkedin
👉 Maciej's Linkedin
👉 Our website

Check out other episodes 👉 here 👈
If you have any questions, feel free to contact us at foundingimpact@ragnarson.com
At Ragnarson we help companies deliver great products. We take care of development and deployment so that they can focus on growing the product and working with customers.